Dedicated to the coolest people on earth.
Caught up with Joy Taylor, writer for the  Miami New Times.
"HungChains are a serious fashion statement, which is also functional, innovative, and eco-friendly."
Machine-made just isn't your thing. You're all about smart design, careful craft, gorgeous details and a little bit of love in the pieces you own and give.
On December 4th, 3rd Ward and Brooklyn Based bring you the 4th annual installment of one of New York's most unique holiday shopping events. Bring your holiday shopping lists — this fair will have something for everyone you cherish. Hailing from all over the country, this year's craft vendors are gathering the best of their collections in clothing, accessories, jewelry, housewares, prints, winter essentials and culinary treats.

HungChains is among one of the 200 accepted vendors participating at this special affair.
Get holiday shopping done without having to step foot into a mall and come out with presents your friends  & family will undoubtedly enjoy.
SEE YOU AT THE FAIR.

Miami's own Lea Lorraine from Oxygen's Bad Girl club is sporting "Golden" all over the states. The photos speak for themselves, we've never look so good bad.
Apologies for the tardiness but we've been working hard on filling orders for all of our beautiful costumers!
A few weeks back HungChains was given a splendid opportunity to preview our FALL10 line at Wynwoods Cafenia lounge. We sipped on Canadian spirits with 200 of our friends, family, and costumers.  The event was a complete success from the models to the bottles to goat cheese croquettes – it went over flawlessly.  We couldn't of done it without the help of the following:
To see the madness unfold, check out our album via Facebook.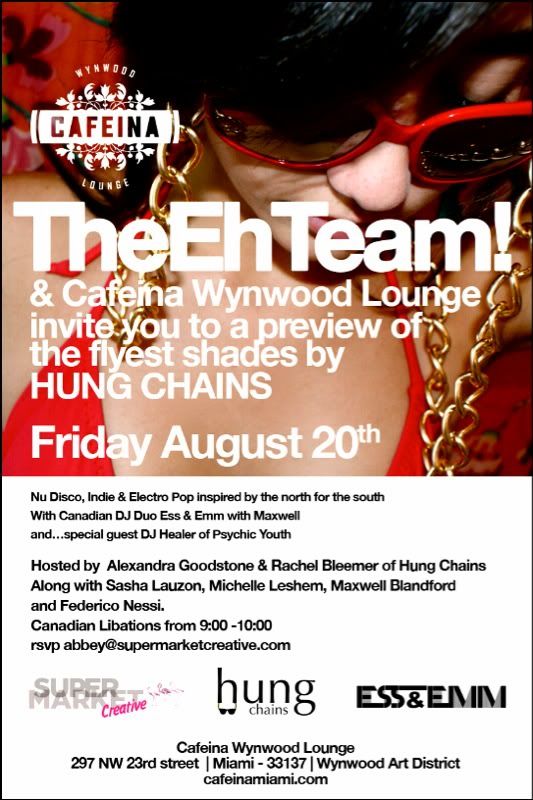 Every month The "eh" Team chooses one local fashion designer to showcase their goods at hot spot Cafeina Lounge. Hungchains is Miss. August & we are inviting YOU to come join in on the celebrations.
Friday, August 20th
Cafeina Lounge
297 NW 23rd St
Miami, FL 33127
Open bar from 9:00-10:00p
Raffle at Midnight
RSVP: info@hungchains.com
Hotel Thrillist was a weekend long bash at Miami's Fountainebleau Hotel, and providing participants with a 3-day-long itinerary filled with everything from meals catered by top chefs, to a swag bag filled with goodies.
One of those goodies – A HungChain, beautifully packaged in our signature cig pack. 200 press participants got to party in Miami with their sunglasses stylishly secured around their neck. Check out the highlights:
HungChains is turning 1 this month and we already received a wonderful birthday present from NBC Miami.
oh happy day,
Rachel y Alex
HungChains was featured in THRILLIST this month – what an honor. Check out the witty article below:


THRILLIST and Hungchains are collaborating once again at next months Hotel Thrillist an epic weekend-long bash held at the Fountainbleau. Hungchains will be apart of the gift bag experience awaiting the hands of A list press ready to learn about what Miami designers have to offer the world. Squee!
Hungs & Kisses
Rachel & Alex
In this chaotic day and age, when a woman's purse can host a toddler's stay with continental breakfast, the daily tumultuous tasks boil down to the most minimal annoyances like the ever-popular where-are-my-sunglasses. Solution: strap those suckers to you and in the process add another adornment to your already spectacular outfit. HungChains, birthed by Rachel […]
beScene Magazine features HungChains in their January issue. Read on…
Stay Connected

Recent Posts